Yoga
The benefits of a yoga practice are very far reaching, not just physically but also mentally and emotionally. One of the most immediate benefits is a feeling of calm as you align your body, breath and mind. This takes your attention away from the chaos of the outside world.

Yoga also increases your flexibility, strength and balance, leaving you with a higher fitness level and reduced risk of injury. It can also help to heal a wide variety of health conditions.

Yoga is accessible for everyone regardless of disabilities, injuries or limitations because postures can be tailored by using any props including blocks, bolsters and belts, or even practicing on a chair or in a wheelchair. Meditation and relaxation have been proven to help alleviate anxiety and depression, and to generate a feeling of calm and wellbeing.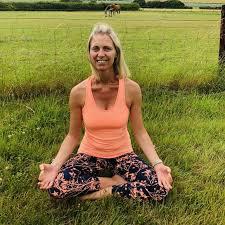 Sarah
About the author

Sarah Irwin founder of Ringwood Yoga has been teaching Hatha yoga for 12 years. She first started yoga twenty five years ago as a form of physical exercise and stress relief to relieve the pressures of a very demanding job, where she was suffering with back and neck ache as well as stress. When she started practicing yoga she found that her sleep improved, she no longer suffered with back and neck ache and was able to manage her stress levels much more effectively. She felt more relaxed and happy, and was far more alert and productive during the working day.

Sarah was so amazed by the health benefits she was experiencing that she decided to train to be a Yoga Teacher to pass these techniques on to others who could also benefit.

She trained with the British Wheel of Yoga (BWY) and FRYOG (Friends of Yoga Society International) and in 2009 founded Ringwood Yoga. Sarah is also a Registered Exercise Professional (REP).
To find out more visit her website.